APRIL opts for Salesforce, a state-of-the-art CRM system, to equip its 15,000 partner brokers free of charge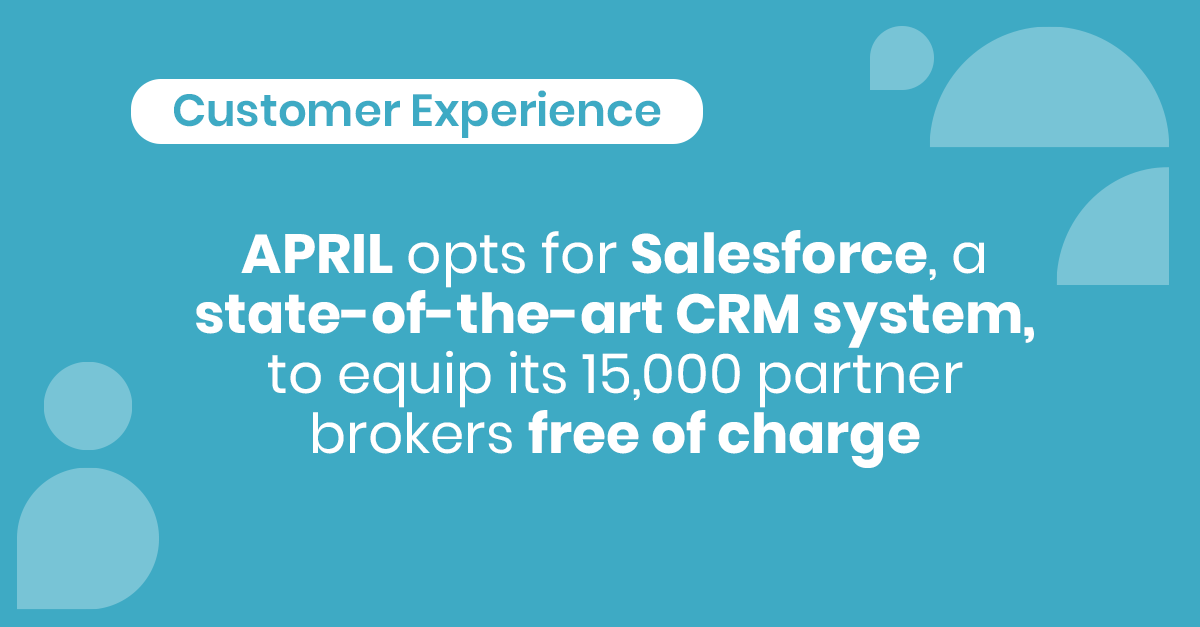 While 70% of local brokers do not have a CRM* tool, the APRIL Group, leading wholesale insurance broker, announces it is providing a state-of-the-art system to its 15,000 partner brokers through the support of the global leader in customer relationship management, Salesforce.
Available free of charge via the APRIL ON platform, it already includes three features: a real-time business monitoring panel; an automated quote follow-up system; and a marketing automation tool. By the end of 2022, new services will be added to help brokers manage and develop their business more effectively.
Enabling brokers to get on the digital bandwagon
In a context of a cost-of-living crisis and increased regulatory constraints, policyholders are continually reaching out to local brokers in search of a personalised experience.
Although they increasingly need to manage their business astutely, today only 30% of brokers are equipped with a CRM tool. APRIL has therefore decided to draw on the expertise of the global leader, Salesforce, to expand its digital system on two fronts: data management and a state-of-the-art CRM tool.
"In line with our ambition to combine the best of digital technology and human relations for the benefit of our partners and their policyholders, we firmly believe that this CRM system, which draws on the expertise of Salesforce, will enable local brokers to step up their transformation in no time," explains Sébastien Limousin, Distribution and Digital Technology Director at the APRIL Group.
"We are proud to be supporting APRIL in its digital transformation. We share the same strong belief that digitalisation should serve the needs of all customer relations stakeholders, starting with local insurance brokers. This is a must, given policyholders' increasing demands for advice, support and empathy, in this sector where any kind of administration is an act of customer relations. APRIL can henceforth rely on a digital platform to make life easier for brokers by giving them access to useful data to manage and develop their business," adds Emilie Sidiqian, General Manager of Salesforce France.
Some introductory features to bring brokers into the data and digital marketing era
APRIL and Salesforce have designed a solution so that local brokers can optimise their business, through three key initial features:
• portfolio analysis and marketing recommendations, identifying tailored operations to put in place through marketing automation campaigns;
• a monitoring panel to enable brokers to track their activity with APRIL in real time: number of quotes, amount of business, as well as conversion rates;
• automatic follow-up of quotes and policy subscriptions through an email/text message service to help convert potential customers into business more easily.
As part of the APRIL ON platform's continual improvement process, new features will be added to this system at the end of 2022.
APRIL will be using the following Salesforce solutions:
Sales Cloud (sales strategy management),
Community Cloud (customised community management),
Tableau CRM (data analysis platform),
Marketing Cloud (customised marketing campaign management).
* CRM : Customer Relationship Management 
About APRIL
APRIL is the leading wholesale broker in France with a network of 15,000 partner brokers. APRIL's 2,300 staff members aim to offer their customers and partners – individuals, professionals and businesses – an outstanding experience combining the best of humans and technology, in health and personal protection for individuals, professionals and VSEs, loan insurance, international health insurance (iPMI), property and casualty niche insurance and asset management. By 2023, APRIL aspires to become a digital, omnichannel and agile operator, a champion of customer experience and leader in its markets, while committing to the societal responsibility issues set forth in its Oxygen approach.
The APRIL Group operates in 16 countries and recorded a turnover of €544 million in 2021.
About Salesforce
Salesforce (NYSE: CRM), the global customer relationship management leader, empowers companies of every size and industry to digitally transform and create a 360° view of their customers, through powerful technology (cloud, mobile, social media, artificial intelligence, voicing, etc.)
To find out more: Website | Twitter | LinkedIn | YouTube
Press Contacts
Monet+Associés agency for APRIL group
Laureen Arnol & Alice Perrin
april@monet-rp.com / +33 4 78 37 34 64
APRIL Group
Mélanie Sutter
melanie.sutter@april.com / +33 6 43 54 66 67
Salesforce
Patrice Taurel | +33 7 63 95 04 45 | ptaurel@salesforce.com
Rumeur Publique agency for Salesforce
Marion Larivière & Sébastien Langa
salesforce@rumeurpublique.fr