APRIL International strengthens its European development team and appoints Marie Modini Country Manager in Switzerland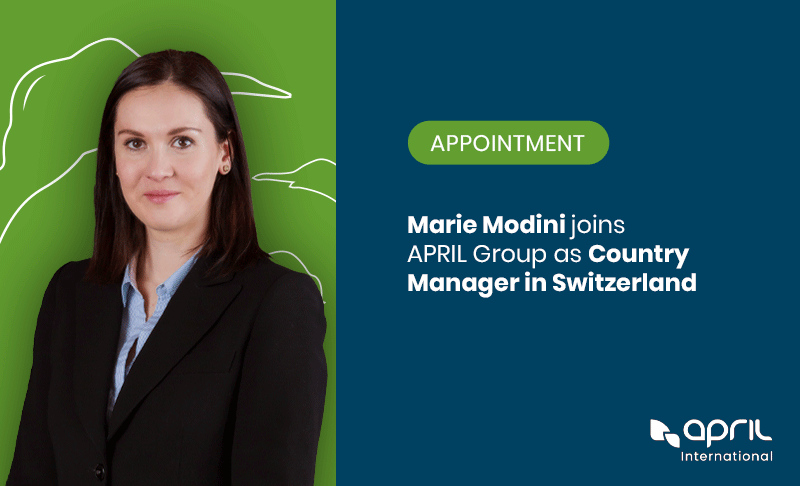 Marie Modini joins APRIL Group as Country Manager in Switzerland, where she will oversee the development of international health business. She joins APRIL International's European team, which already supports several thousand broker partners and hundreds of thousands of expatriates from France, the UK, Germany, Belgium and Switzerland.
After a career abroad that took her to live and work in Asia, Australia and the United States for almost 10 years, Marie used her mastery of international business environments and her expatriate experience to develop an expertise in international health insurance. With several experiences with major brokers in Switzerland over the last 5 years, Marie has a strong network in the Swiss market and solid business development skills.
About APRIL Group
APRIL is the leading wholesale broker in France with a network of 15,000 partner brokers. APRIL's 2,400 staff members aim to offer their customers and partners – individuals, professionals and businesses – an outstanding experience combining the best of people and technology, in health and personal protection for individuals, professionals and VSEs, loan insurance, international health insurance (iPMI), property and casualty niche insurance and asset management. APRIL aspires to become a digital, omnichannel and agile operator, a champion of customer experience and leader in its markets, while committing to the societal responsibility issues set forth in its Oxygen approach.
The APRIL Group operates in 18 countries and recorded a turnover of €590 million in 2022.
Press Contacts
APRIL
Mélanie Sutter
melanie.sutter@april.com / 0033 6 43 54 66 67
Monet+Associés agency for the APRIL group
Laureen Arnol & Léa Petit
april@monet-rp.com / 04 78 37 34 64