NOMINATION : APRIL renforce ses équipes digitales avec l'arrivée de Yann Person en tant que Head of Product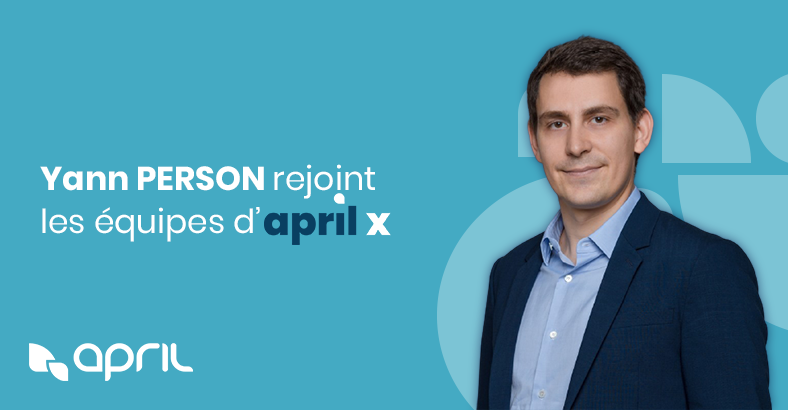 Avec de fortes ambitions en matière de digitalisation au bénéfice de son expérience client et courtiers, le groupe APRIL renforce ses équipes au sein du Hub APRIL X et accueille Yann Person au poste de Head of Product.
Yann Person rejoint le groupe après un parcours professionnel d'une dizaine d'années dans l'univers de la French Tech, marqué par la volonté de mettre la technologie au service d'une expérience client réussie.  Au sein d'APRIL, il pilote et anime la Distribution Digitale auprès des partenaires courtiers avec pour missions de :
● Poursuivre et accélérer fortement l'amélioration de l'expérience courtiers, via la plateforme dédiée APRIL ON et les différents parcours digitaux de souscription et de gestion mis à leur disposition, tel qu'APRIL Reprise sur le marché de l'assurance emprunteur ;
● Faciliter le développement des courtiers via des outils et services, notamment en matière de CRM, soutenu par le n°1 mondial, Salesforce.
Yann Person intègre le hub digital APRIL X avec une équipe d'une trentaine de personnes, qui a pour vocation de continuer à grandir. De nombreux postes sont actuellement ouverts, notamment sur les métiers de développeurs.
Quelques mots sur son parcours
Agé de 32 ans, Yann Person est titulaire d'un diplôme d'ingénieur de l'Ecole Nationale Supérieure des Mines, il a débuté sa carrière en tant que Product Manager chez Amadeus avant de rejoindre l'univers de la French Tech en tant que QA Manager : il a travaillé tour à tour pour Younited Credit (devenue l'une des 25 licornes françaises), Leetchi / MangoPay et ManoMano. Au cours de ces différentes expériences, il a eu l'opportunité d'accompagner des entreprises en forte croissance et de constituer et animer des équipes d'envergure.
Il a ensuite rejoint Corum, société de gestion financière, dont la stratégie de distribution en direct et en intermédié via des conseillers de gestion en patrimoine s'approche du modèle omnicanal d'APRIL qu'il rejoint aujourd'hui.
About APRIL
APRIL is the leading wholesale broker in France with a network of 15,000 partner brokers. APRIL's 2,300 staff members aim to offer their customers and partners – individuals, professionals and businesses – an outstanding experience combining the best of humans and technology, in health and personal protection for individuals, professionals and VSEs, loan insurance, international health insurance (iPMI), property and casualty niche insurance. By 2023, APRIL aspires to become a digital, omnichannel and agile operator, a champion of customer experience and the leader in its markets.
The APRIL Group operates in 16 countries.
Press contacts
APRIL 
Mélanie Sutter | +33 6 43 54 66 67
Agence JIN
Camille Billiemaz | +33 6 31 58 82 37 | cbilliemaz@jin.fr
Benjamin Chamblain | +33 6 43 13 70 63 | bchamblain@jin.fr