APRIL buys Magnacarta, leading wealth manager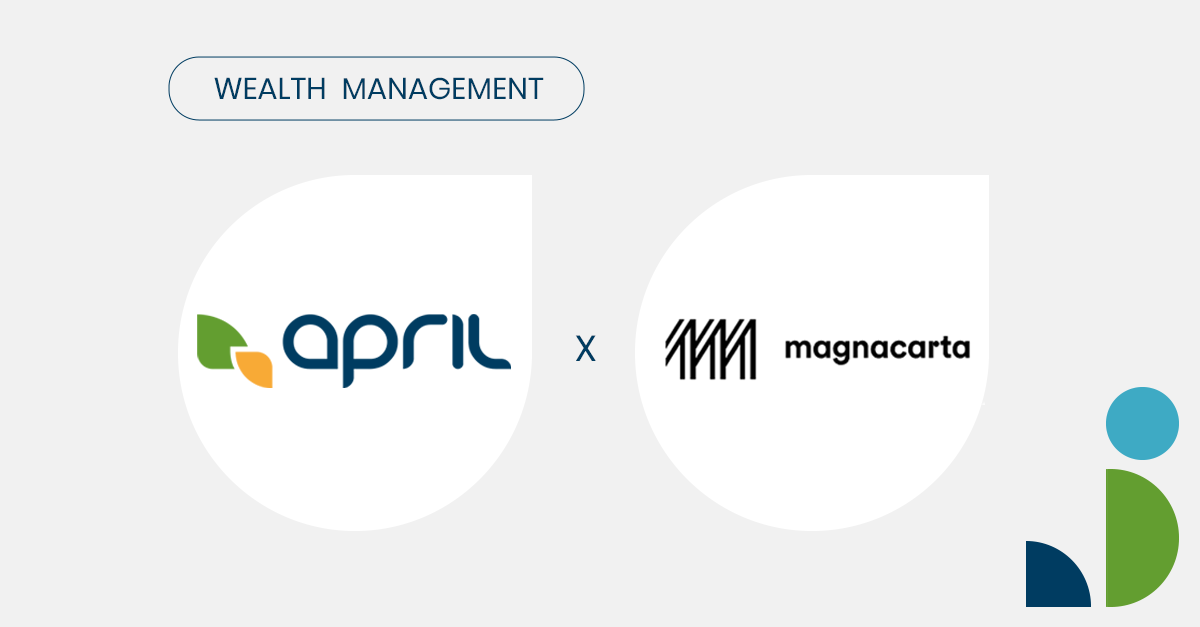 The APRIL Group, leader in insurance brokerage, announces the acquisition of Magnacarta, a leader in wealth management for over 25 years. This investment is part of APRIL's ambitious external growth strategy in France and internationally. With the support and expertise of its new shareholder, Magnacarta plans to consolidate and speed up its development in the French market.
With over 20,000 customers and almost €2.5 billion in assets under management, Magnacarta is the leading group of wealth management consultants in France. Bolstered by a strong local network, the Magnacarta group offers its affiliated firms and advisers the benefit of its expertise in estate planning, regulatory compliance, and in the selection and design of innovative products and services in property, life insurance, social welfare, and asset distribution.
Through this transaction, Magnacarta will benefit from synergies with the APRIL Group to spur growth and consolidate its position as a leader in wealth management consultancy support. APRIL will extend its field of expertise and reconnect with the asset management market. The Group will be able to offer solutions and services dedicated to pensions and savings to its network of partner brokers.
"We are delighted to be moving back into the world of asset management, which we left a decade ago with the sale of our insurance and distribution activities to a major French bank. We understand this market well and were won over by the expertise and journey of the Magnacarta Group, which has become the leading group of asset management consultants in France in just a few years. We are eager to build cooperation with the Magnacarta teams in order to carry forward our joint ambitions for the benefit of our customers and partners," Eric Maumy, President of the APRIL Group.
"This is a new stage in Magnacarta's history, and we are delighted to be joining forces with an ambitious Group like APRIL. The arrival of the Burrus Group in 2018 led Magnacarta to broaden its value proposition through the 1215 group and the network of Mérimée Gestion Privée firms. We will now consolidate and speed up our development through the support of the APRIL Group and its expertise in customer experience and digital transformation, " Vincent Couroyer, President of Magnacarta.
"The wealth management market is growing rapidly and offers development prospects which complement insurance brokerage. These dynamics serve to remind us that we operate alongside our 15,000 partner brokers. We will help the Magnacarta teams to develop and consolidate their market and will ultimately be able to offer our distributors a range of products and services extending to asset management," Emmanuel Maillet, Deputy CEO of the APRIL Group.
About APRIL Group
APRIL is the leading wholesale broker in France with a network of 15,000 partner brokers. APRIL's 2,300 staff members aim to offer their customers and partners – individuals, professionals and businesses – an outstanding experience combining the best of humans and technology, in health and personal protection for individuals, professionals and VSEs, loan insurance, international health insurance (iPMI), property and casualty niche insurance. By 2023, APRIL aspires to become a digital, omnichannel and agile operator, a champion of customer experience and the leader in its markets.
The APRIL Group operates in 16 countries and recorded a turnover of €544 million in 2021.
About Magnacarta
For 25 years, the MAGNACARTA Group has been working with wealth management advisers to help them develop and secure their business.
Eager to offer support through every phase of development, we offer the whole range of solutions, advice and products required for this profession across three different entities: 1215 – Magnacarta – Merimée Gestion Privée.
Press Contacts
Agence Monet+Associés for the APRIL Group
Laureen Arnol & Alice Perrin
april@monet-rp.com / 04 78 37 34 64
APRIL Group
Mélanie Sutter
melanie.sutter@april.com / 06 43 54 66 67
Magnacarta
Sophie RIBERY
s.ribery@magnacarta.fr / 06 69 94 90 00