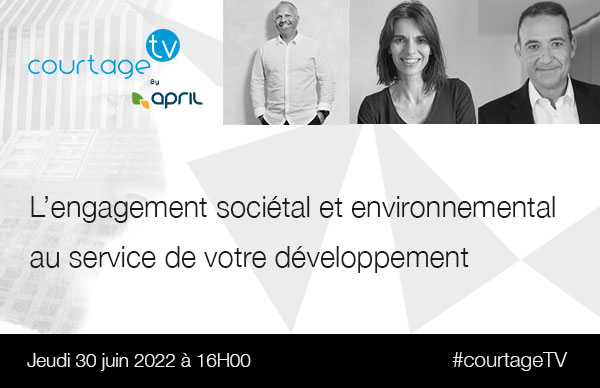 APRIL is continuing to broadcast its new approach to Corporate Social Responsibility, called Oxygen.
Our broker partners are key stakeholders in the APRIL group, and we wanted to share this ambitious approach with them and provide them with tools so that they in turn can make a commitment, in line with the first pillar of our commitments in this area: "a driving force for our ecosystem".
You can now watch the replay (in french) of this special programme dedicated to this key issue for all companies, whatever their size.
With :
Sophie Ferreira Le Morvan – CSR Director of APRIL Group and General Delegate of the APRIL Foundation
Frédéric Lubszynski – Founder of V.I.P Assur
Marc-Andre Dupont – Head of APRIL Group's Property and Casualty Division
About APRIL
APRIL is the leading wholesale broker in France with a network of 15,000 partner brokers. APRIL's 2,300 staff members aim to offer their customers and partners – individuals, professionals and businesses – an outstanding experience combining the best of humans and technology, in health and personal protection for individuals, professionals and VSEs, loan insurance, international health insurance (iPMI), property and casualty niche insurance. By 2023, APRIL aspires to become a digital, omnichannel and agile operator, a champion of customer experience and the leader in its markets.
The APRIL Group operates in 16 countries and recorded a turnover of €544 million in 2021.
Press contact
APRIL 
Mélanie Sutter, Press Relations Manager | 0033 6 43 54 66 67