APRIL medical insurance policyholders can now enjoy teleconsultation services via Livi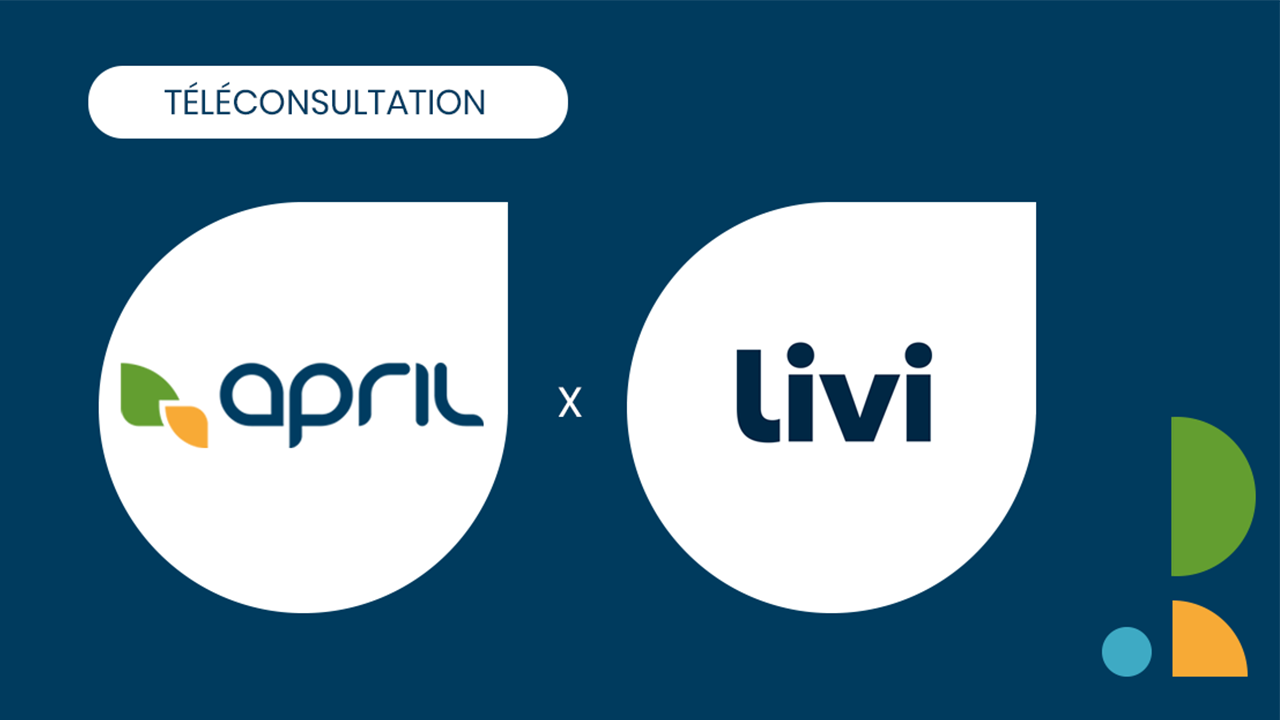 Teleconsultation has become common practice over the last two years, driven by the Covid-19 pandemic, with one in five French people using such services on a regular basis[1]. To help support these new practices and offer the best experience to its customers, APRIL has developed its teleconsultation services by joining forces with Livi, a major e-health provider in Europe and teleconsultation expert. All APRIL's medical insurance policyholders now have access to this service, which is included in their policy[2].
Easily accessible teleconsultation services, when policyholders really need them
Apart from exceptional circumstances like those related to the pandemic, teleconsultation offers a great addition to regular healthcare for French patients. Being able to see a doctor when on holiday or away on a work trip, getting an appointment quickly when waiting lists tend to be long, especially for specialists, as well as being able to talk to a paediatrician outside of surgery opening hours to avoid overburdening the emergency services, are all examples of the support APRIL can offer through Livi, including:
• appointments within the hour every day from 7am to midnight;
• easy-access, high-quality teleconsultation made possible through the combined strength of a network of scrupulously selected professionals and the best of Livi technology, available in health insurance customers' accounts;
• a medical insurance policy offering up to five appointments per year fully covered without any payment up front, regardless of the type of specialist seen.

A digital customer experience to enhance healthcare provision 
APRIL and Livi have joined forces with the common goal of enhancing French people's healthcare provision through innovation. This partnership, conceived and run by APRIL's customer experience and health insurance teams at the APRIL X digital hub, now offers policyholders easy access to healthcare, in addition to more mainstream pathways.
"Our partnership with Livi perfectly embodies our vision of digitising the customer experience: to support our customers everywhere in times of need and offer a quick solution as well as a high-quality, useful service. It also conveys our ability to join forces with French and European tech gems to offer the best service to our policyholders and partners," points out Sébastien Limousin, Distribution and Digital Director at the APRIL group.
"We are delighted about this partnership with APRIL, which is a perfect example of how teleconsultation can be used in addition to mainstream treatment pathways. This digital system is a must, as let's not forget that nowadays around 30% of teleconsultations take place with patients who live in shortage areas, and over 40% happen after 8pm or at weekends. With APRIL, our joint ambition is to make access to healthcare easier, in order to provide better care to their policyholders," adds Quentin Pernez, Managing Director at Livi.
[1] Survey by the CSA institute for France Assos Santé – June 2021
[2] Policyholders with APRIL Santé Prévoyance
About Livi
With operations in France since 2018, Livi has established itself as a provider of comprehensive, high-quality care services, including patient appointments via teleconsultation and in person. Kry, its parent company, is the Swedish teleconsultation giant. As the leading digital care provider in Europe, the group has operations in over 30 countries. Livi employs 400 GPs and specialists registered with the French Medical Association to support their innovative healthcare project built on quality service provision. Psychologists and psychiatrists are also available to patients who need support with their mental health.
Livi makes access to healthcare easier for everyone by offering an addition to patients' usual treatment channels, especially when the latter are not available (overwhelmed GP surgeries, closed surgeries, weekends, etc.).  Livi's services are available seven days a week, from 7am to midnight via the Livi website, or via the app for smartphones or tablets.
About APRIL
APRIL is the leading wholesale broker in France with a network of 15,000 partner brokers. APRIL's 2,300 staff members aim to offer their customers and partners – individuals, professionals and businesses – an outstanding experience combining the best of human relations and technology, in health and personal protection for individuals, professionals and VSEs, loan insurance, international medical insurance, property and casualty niche insurance, and wealth management. By 2023, APRIL aims to become a digital, omni-channel and agile operator, a champion of customer experience and the leader in its markets, while at the same time committing to core societal responsibility issues as part of its Oxygen approach. The APRIL group operates in 16 countries and recorded a turnover of over €544m in 2021.
Press contacts
APRIL
Mélanie Sutter
melanie.sutter@april.com / 06 43 54 66 67
Agence Monet+Associés agency for the APRIL group
Laureen Arnol & Alice Perrin
april@monet-rp.com / 04 78 37 34 64